Fun was in the air Saturday in Union Township.
Some folks took that quite literally.
At the 10th annual Wings and Wheels Fly-in, Cruise-in and Craft Show at the New Castle Airport, sisitors had the chance to see rows of classic cars parked just off the runway, as well as modern and older aircraft on display and in the sky. In addition, food and craft vendors offered their wares under canopies set up just for the occasion.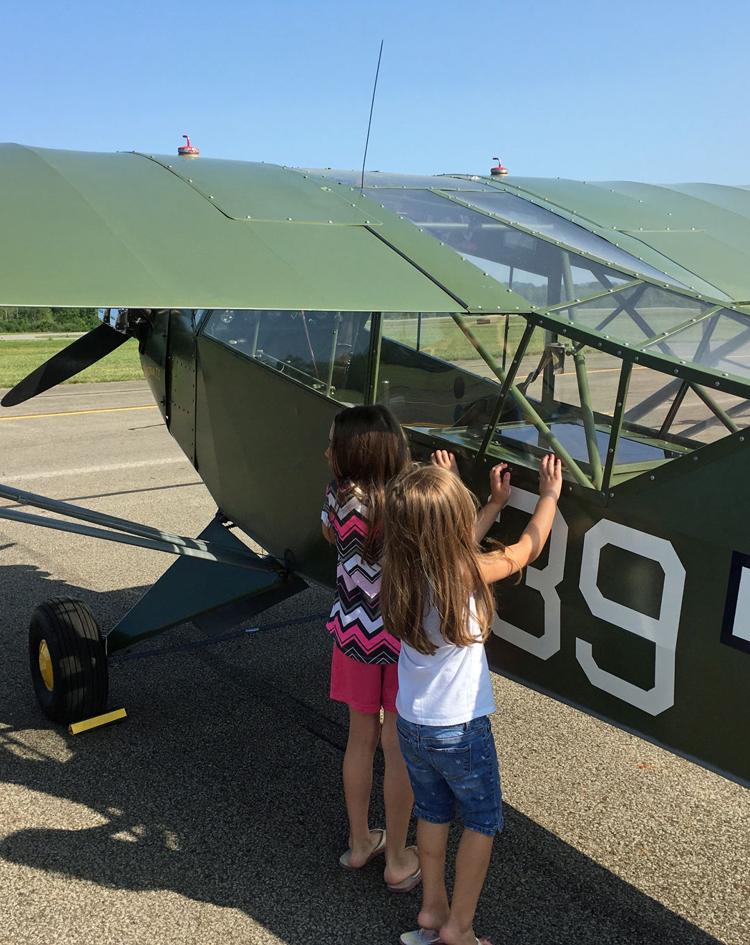 For the more adventurous, though, the highlight of the day was taking a ride in either a helicopter or an airplane.
Jennifer Birckbichler and her daughter, Caitlyn, were among the first to head for the clouds.
"We just wanted to try something new," Jennifer said after the pair returned from their first-ever helicopter flight. "We went to Venango Airport a couple weeks ago and didn't get a chance to do it, so we wanted to do it today.'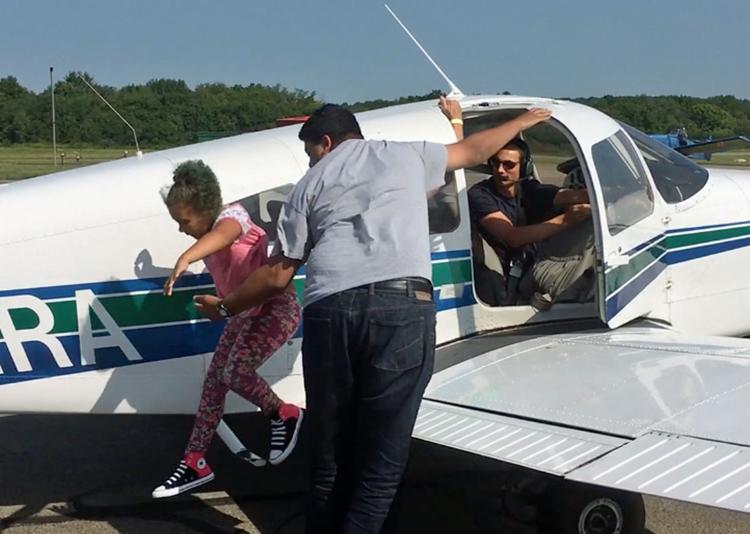 She added that although there were a few nervous moments as they buckled into the aircraft, "they went away once we took off and got going. It was incredible. It's great just to fly. The door was open. It was scary at first, but just how calm and relaxing it was."
Caitlin agreed the experience was "fun," and her mom noted that "The first thing she said when we got off was I want to go again."
Also making her inaugural foray into the wild blue yonder was 7-year-old Nataia Williams, who flew with her great-grandfather Ralph Downs, and another event-goer, Vietnam veteran Jerry Riedel.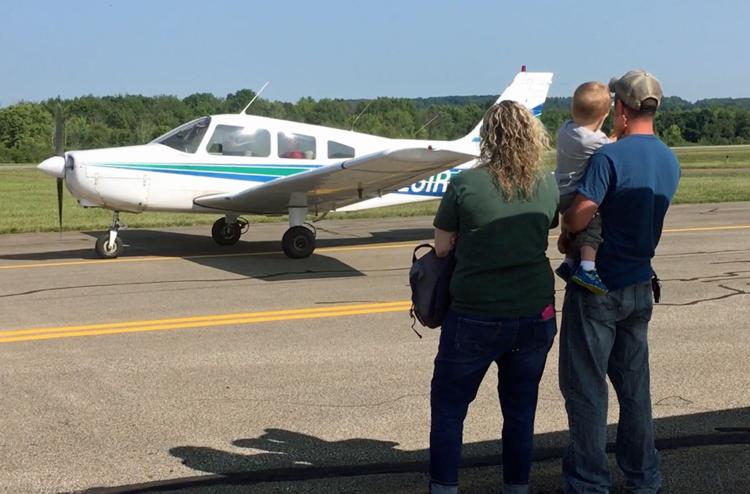 Back on solid ground, Nataia likened the experience to "this one ride at Waldameer," but liked seeing "cities and stuff" and enjoyed pilot Benjamin Model "doing the side turns."
"We've been coming out past the airport for several years and she's been wanting to fly," Downs said. "When I saw this event, I said, this is the time to do it."
Nataia got right onto the plane, Downs said, but once inside, wasn't all too sure she wanted to go up.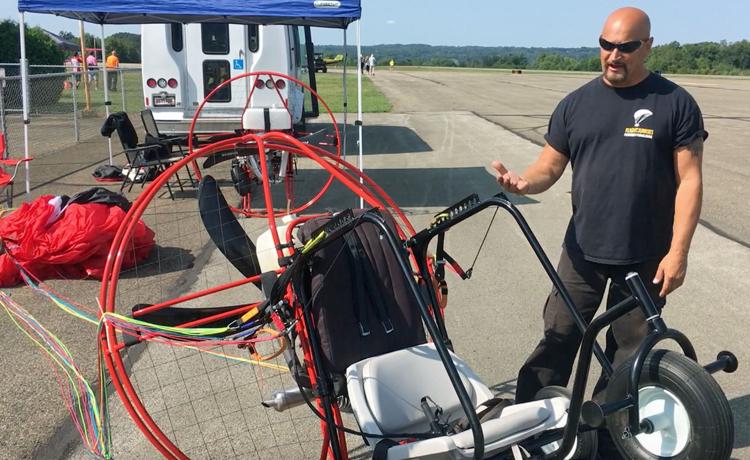 "We had an excellent pilot and he talked to her, explained what he was doing, and then she was OK," Riedel observed.
Ultimately, though, it wasn't discussion of flight logistics that calmed young Nataia.
"He pinky promised we'd come back OK," Downs said.
Kurt Fister of Flight Junkies in Newton Falls, Ohio, put his own stamp of the day's air travel with a demonstration of powered paragliding, a form of ultralight aviation that looks like a cross between Everglades air boating and skydiving.
Though the motor can be strapped to one's back and the craft launched on foot, Fister had it attached to a wheeled trike in the front, and and multi-colored parachute in the back.Taking off, he soared over the infield between the taxi-way and the runway for several minutes before returning.
"It's the most incredible form of flight because it's the safest — you're under a parachute essentially; if the motor quits, you just float down," said Fister, who has trained 1,109 people in over 30 years of power paragliding. "It's the least expensive to operate ,…. There's very little maintenance … (and) the thing will assemble and disassemble very quickly.
"It's the most portable form of flight because this can all fit in the back seat of your car."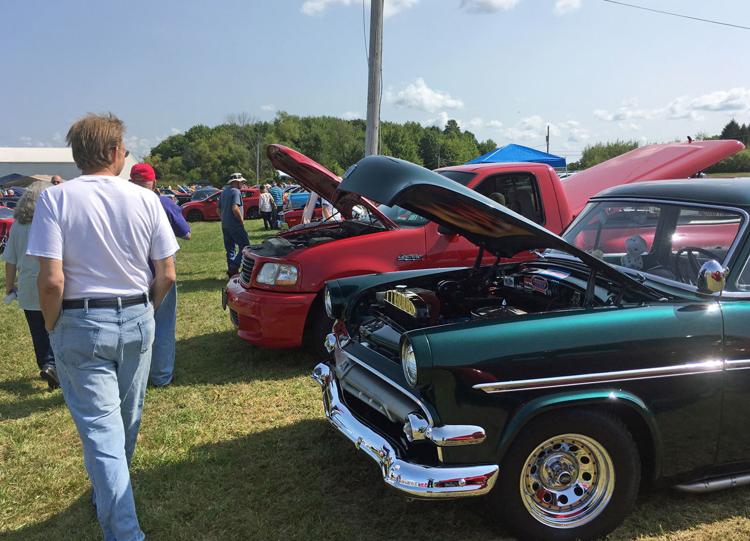 The craft will run on pump gasoline or aviation fuel, will fly between 25 and 45 miles an hour depending on the size of the motor, and has four to five hours of flight time on a single tank of fuel. Fister said he has flown as far as 150 miles on a tank of fuel, and has hit a top altitude of just under 15,000 feel. "You can fly it as low as you want, slow as you want and you have a landing field just about anywhere because you put it down in the space of about 15 feet and take off in about 20."
Power paragliding pilots need no license, and, apparently, they catch on quickly. Some of his students — who range in age from 11 to 92 — fly the same day the start training.
"For the thrill of flight," he said, "this is like flying in your dreams. It's literally like being in a dream state."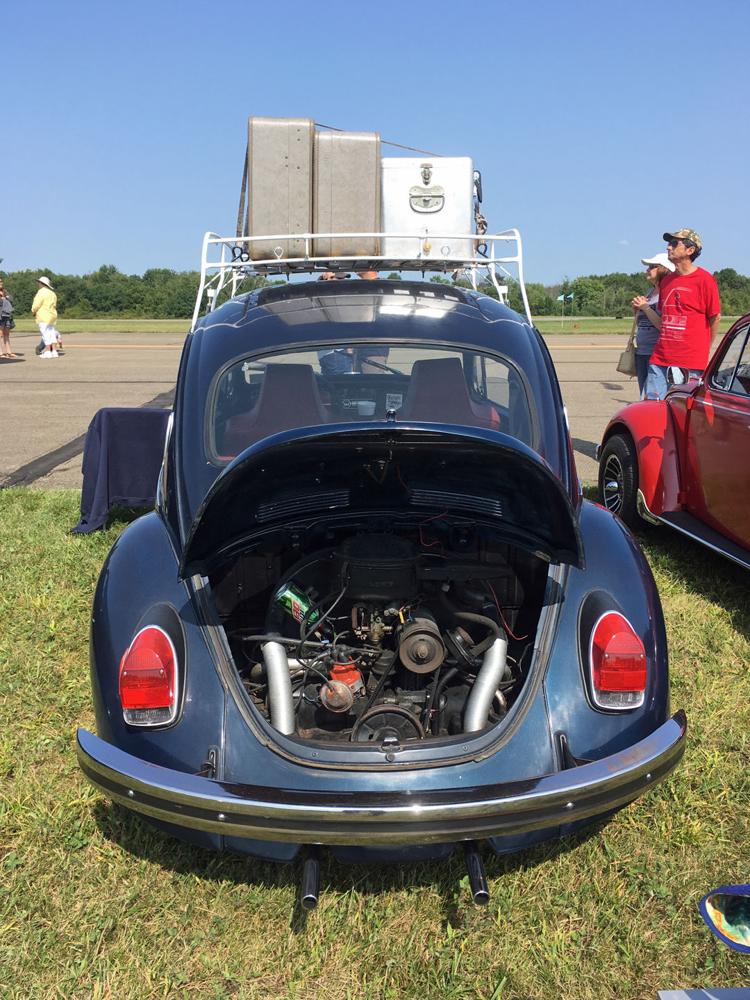 Elsewhere around the airport, model planes were flying and Frank Sesek of Macedonia, Ohio, was demonstrating a World War II-era prop engine and a Vietnam era F14 Tomcat afterburner.
Classic cars also abounded, among them the 1970 Old Cutlass belonging to Charles Alborn of New Castle. Sitting in the shadow of its upraised hood were Cecelia Liposky and Barbara Musguire, the latter of who marveled at how Wings and Wheels has expanded in just a decade.
"This has really grown," she said. "I've come every year, and it's doubled in size from what it used to be. It's wonderful to see such growth in New Castle — something positive."
(For more information on Flight Junkies and powered paragliding, visit CLICK HERE.)